Balexert partner of the Genève-Servette Hockey Club (GSHC)
The leading shopping center in French-speaking Switzerland, with more than 8 million visitors per year, is committed to supporting the Genève-Servette Hockey Club (GSHC), flagship club of the Canton of Geneva.
The 2020-2021 season marks the start of a strong partnership between two Geneva institutions that share the same values ​​and have been part of the hearts of the people of Geneva for many years.
To keep this partnership alive, Balexert will organize, in close collaboration with the GSHC, activities in the heart of the center and at the Vernets ice rink: player signings, Sherkan visits, hockey demonstrations, organization of competitions and sponsor evenings will be proposed. throughout the next sporting seasons. The perfect opportunity for fans to meet their favorite team at Balexert and enjoy many benefits.
"We are delighted to join forces with the GSHC again and look forward to seeing the Vernets again to experience great emotions during the next season" underlines Ivan Haralambof, Director of Balexert.
In order to complete its support for local sports associations, Balexert is also starting a partnership with young hopefuls with the support of the Association Genève Futur Hockey (AGFH) for 2021 and 2022. Created by the GSHC, this association aims to develop the playing hockey with young people and thus ensuring the next generation by transmitting to them the beautiful values ​​of the sport. For this season Balexert will be displayed on the jerseys of the association's three teams: U15, U17 and U20, or 90 hockey players in all.
Balexert is proud to support les Aigles and invites you to (re)discover the club on www.gshc.ch, Facebook, Instagram or Twitter.
Offer a Balexert-GSHC Gift Card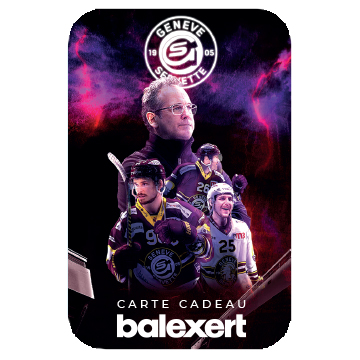 Do you want to please a fan of the club or please yourself?
Offer the special GSHC Balexert Gift Card!
Order it online or go to the Stand Info on the Grande Place.
Your tickets for Les Vernets
Would you like to get a ticket to support les Aigles at the Vernets ice rink? Nothing could be simpler: come and try your luck by participating in one of the contests regularly organized on our social networks.
You can also purchase your tickets or subscriptions at the GSHC ticket office (see opposite) or from our Stand Info on the ground floor of the center.